Trek Portable Wash Plants
Eagle Iron Works' Trek Portable Wash Plants house Eagle's own field-proven wash equipment on a Department of Transportation-approved chassis. These compact, wheeled units offer the same washing capabilities as their stationary counterparts and come in multiple configurations.
Flexibility and mobility in washing equipment are needed in many markets. Eagle Trek Portable Wash Plants allow producers to move their washing operation when and where they need to by simply hooking the equipment up to a semi or tractor-trailer truck and heading to the next site. Brakes, lighting package and landing jacks are all included on the main frame of the chassis, as well as walkways and ladder access for plant inspections and maintenance.
Water lines and electrical hook-ups are all included on Eagle Trek Portable Wash Plants, meaning that these plants can be up and running in a matter of hours or a day, depending on the site. Teardown is also minimal, which allows you to be on your way to a new location in no time. If you process material at multiple sites, Trek Portable Wash Plants eliminate the need to have multiple pieces of equipment, minimizing capital costs. Transportation costs can also be minimized, as the wash plant can be hauled to the area where material is being processed, as opposed to trucking material around the site.
Eagle Trek Models
Eagle Iron Works has been making portable wash units for decades and is now producing a standard set of plant sizes with its line of Eagle Trek Portable Wash Plants. These plants can come in multiple configurations to provide ultimate versatility. All aspects of the Eagle Trek units are built and manufactured in the United States.
Eagle Trek Screen Screw Plant (SSP)
An Eagle Trek Screen Screw Plant (SSP) combines a triple-deck Eagle Horizontal Vibrating Screen with a CONDOR Double Screw Fine Material Washer and is capable of separating the feed into multiple product streams. The vibrating screen separates the feed into two or more product sizes, with the larger material typically discharging to conveyors for stockpiling. Sand and water passing through the screen's bottom deck flows to the Fine Material Washer located directly beneath the screen on the chassis. The vibratory screen is equipped with a complete spray bar washing set on all decks.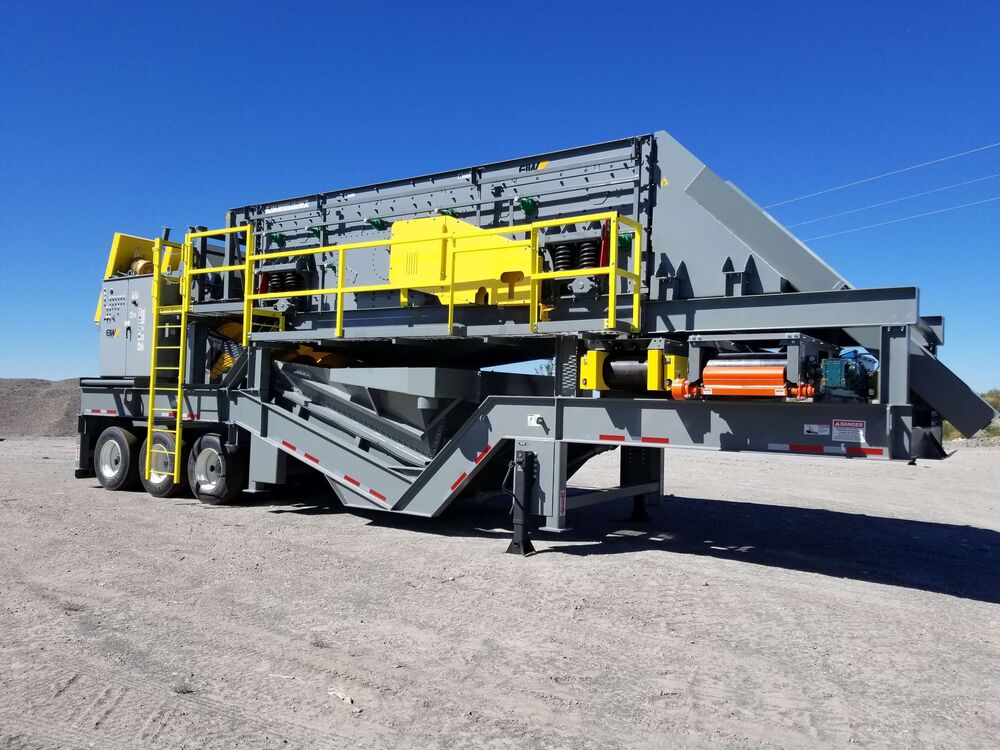 Eagle Trek Tank Screw Plant (TSP)
An Eagle Trek Tank Screw Plant (TSP) features a Sand Classifying Tank and a CONDOR Double Fine Material Washer. These two machines combined on a portable chassis are able to make two construction grade sand specification products simultaneously, while offering producers unmatched flexibility. The Sand Classifying Tank removes excess water and classifies sand into two spec sizes for dewatering through the Double Fine Material Washer. The screw washer can produce one or two different gradations of sand products based on your site's needs. Because this system also comes with Eagle's Digital Dial Split Control System as standard, producers get additional flexibility of not only being able to move their plant, but also of being able to change specifications.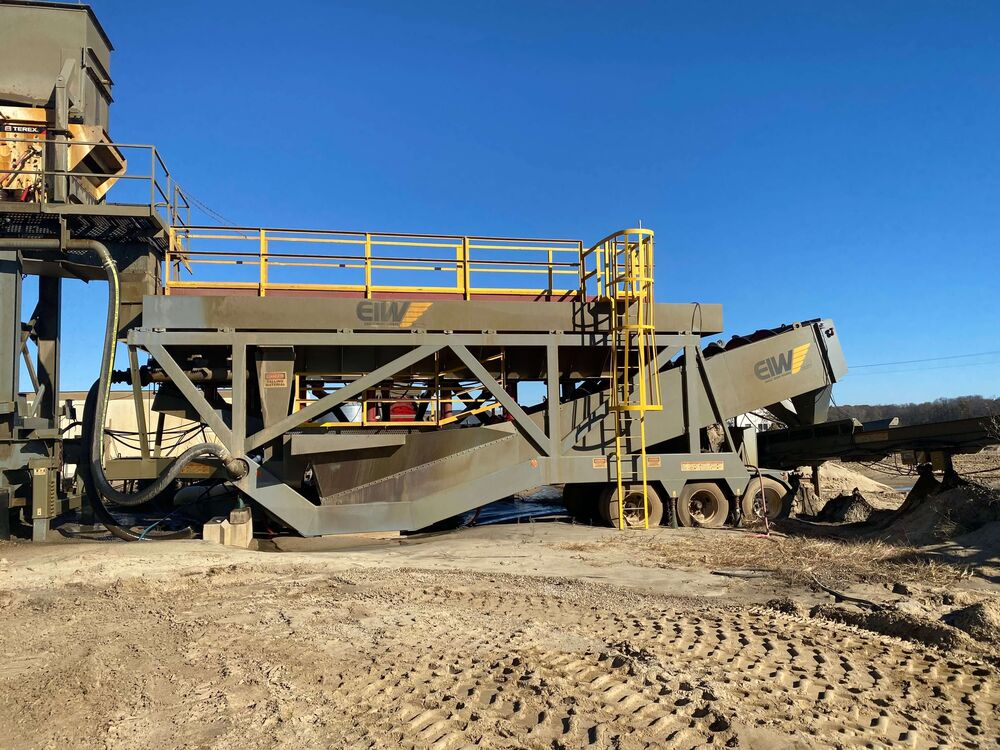 Case Study: Trek TSP At Ideal Ready Mix
Ideal Ready Mix benefits from portability of Eagle Trek Tank and Screw Plant.
Product Features
Chassis
Easily attached to a semi or truck trailer to be quickly moved from site to site
Road-portable triple-axle chassis with landing jacks
Includes walkways and ladders for easy access and maintenance
All appropriate guarding included
Fine Material Washers
Standard wear shoes are made of abrasion-resistant 600 Brinell Eagle Armor iron alloy, with optional urethane wear shoes available
Shaft made of extra-thick, one-piece shaft tubing
Washer tub fabricated with thick gauge steel with close-clearance curved plate that runs the entire length of the shaft
Extra-wide side flares for maximum product retention
Adjustable weirs for out-of-level conditions
Internal and external baffles in the feed box to reduce feed velocities
Provides uniform slurry mixture for maximum product retention
Hinged flares standard to make portability easier
Screen
Adjustable oval stroke for application adaptability

Patent-pending wet bearing start up
Reinforced deck frames for all types of media
Easily adjustable snubbers
Spray package available as an option
Easy access drive guard
Screen Screw Plant
Cross belts make set up and stockpiling easier
Optional hydraulic jacks for ease of set up and operation
On plant controls that can be positioned on the ground away from dust and vibration
Folding feed material slush box for transportation
Download the Eagle Trek Portable Wash Plant Brochure
To learn more about Eagle Iron Works' Trek Portable Wash Plants, including sizes and capacities, download the brochure.