Coarse Material Washers
Eagle Iron Works' Coarse Material Washers are designed to efficiently clean rock by scrubbing deleterious materials from gravel or crushed stone feeds. They provide light to moderate scrubbing and washing to remove the soluble clays and dust coatings found in natural and crushed stone applications.
Eagle Iron Works produces heavy-duty Coarse Material Washers for removing soluble clays and dust coatings that are encountered in natural and crushed stone applications. They are manufactured with alternating spiral flights and paddles on the conveyor shaft to abrade and break down soluble clays or crusher dust clinging to the particles in the feed. Undesirable dissolved clays and silts overflow the weirs from a rising current of water to remove lightweight deleterious materials. Removing these deleterious materials is vital to creating a clean final product.
Coarse Material Washers from Eagle Iron Works are available in either single or double screw configurations depending on capacity requirements. The largest size machine is a 48" x 24' Double Screw unit that has a capacity of up to 500-600 tph. They are available with Eagle's heavy-duty gear reducer or as a CONDOR model with standard Dodge reducers. An adjustable end weir improves trash removal capabilities. Heavy-duty cast hubs protect the pipe shafts from excessive wear.


How Coarse Material Washers Work
Corrugated paddles cut through a slurry of rock and water, resulting in particle-on-particle scrubbing that causes the deleterious materials to separate from the coarse aggregate materials. The action of the paddles, combined with the rolling and tumbling generated by the rotating spirals, releases deleterious materials into the overflowing wastewater. A rising current manifold on each Eagle Coarse Material Washer provides an upward current of water to assist in removing unwanted materials. Lightweight deleterious materials, such as twigs, sticks and some coals, are floated by the rising current of water and the jigging action of the paddles within the tub. Those lightweight materials are then removed by the overflowing wastewater.
By adding more paddles to the shaft(s), each Coarse Material Washer can be configured to meet the different specific scrubbing needs of various materials. Additional paddles, while slightly reducing capacity, allow material to be retained in the Coarse Material Washer's tub area, providing additional scrubbing.
Blade Mills
Blade Mills are very similar in appearance to Coarse Material Washers but function much differently. The major difference is that any material and water that enters the Blade Mill must exit through the discharge opening located at the bottom of the washer tub opposite the feed end, as these units are installed at a shallow slope position of 0° to 5°. There is no overflow in this type of unit. Using a combination of paddles and flights arranged in alternating format the entire length of the shafts, they begin to scour, abrade and break down deleterious material. The shafts can have different configurations but mainly the idea is to have alternating flights and paddles. Rock, sand, or a combination of rock and sand depending on the process plant location typically discharges directly onto a washing/sizing vibrating screen or dewatering equipment.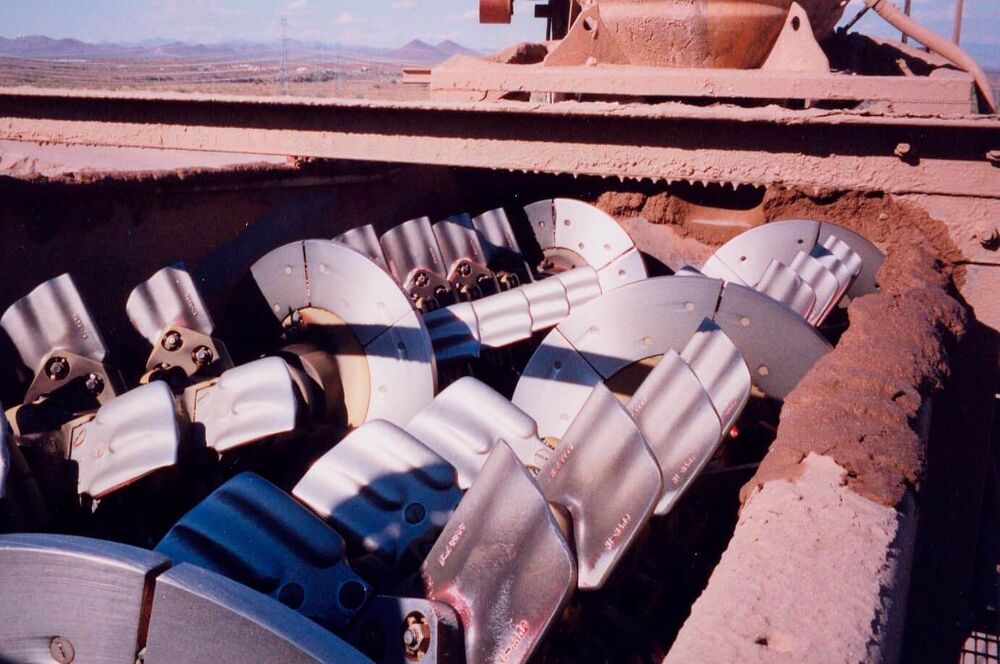 Product Features
Eagle Gear Reducer
Heavy-duty design with heat-treated helical gears
100% of the shaft's thrust load carried by the output shaft(s)
Oil bath lubrication for maintenance-free operation
Drive guards standard equipment
Conveyor Shaft
Extra-thick, one-piece shaft tubing
Four sets of paddles come standard
Paddle and flight sections easily changeable in the field
Number of paddles on shaft can be increased to improve scrubbing
Conveyor Shaft Flights
Wear shoes cover the full face of spiral
Flight segments are mounted to shaft via cast hubs
Heavy-duty cast hubs also provide shaft wear protection
Conveyor Shaft Paddles
Featured corrugated face for additional scrubbing capabilities
Three-bolt fastening system and protective "wrap-around" design
Paddle segments mounted to shaft via cast hubs
Heavy-duty cast hubs also protect shaft from wear
Washer Tub
Fabricated with thick gauge steel
Close-clearance curved plate runs entire length of shaft
Adjustable end weir for improving trash removal capabilities
Rising current manifold
Spherical-roller rear grease bearing(s)
High-efficiency electric motor(s)
Optional Equipment
Discharge chute
Safety covers
Pillow-block rear bearing(s)
Download the Coarse Material Washer Brochure
To learn more about Eagle Iron Works' Coarse Material Washers, including sizes and capacities, download the brochure.