Fine Material Washers
Eagle Iron Works' Fine Material Washers perform three related actions: washing, dewatering and classification.
Washing fine 2.6 SG and higher solids being nominally minus 10mm or 3/8" x 0 is the primary function of Fine Material Washers. This is accomplished by the continuous rotation of the spiral conveyor shaft and the velocity of the overflowing wastewater acting on the feed material. The rotating shaft causes the feed material to roll and tumble, which in turn provides particle-on-particle attrition. This action allows deleterious coatings to be removed from the solids and discharged with the overflowing wastewater.
Fine Material Washers are available in either single or double screw configurations, and selection is primarily a function of capacity requirements. Wear shoes can be provided in a 600 Brinell Eagle Armor iron alloy or in a premium polyurethane. Classic Eagle Fine Material Washers come equipped with a heavy-duty Eagle Gear Reducer. These gear reducers have heat-treated helical gears, triple reduction that allows 100% to 16% operational washer shaft speeds, oil bath lubrication for maintenance-free operation and drive guards as standard. Double Fine Material Screws can be manufactured in a size of 72" x 38' with capacities up to 950 TPH.
How Fine Material Washers Work
Fine Material Washers achieve dewatering by conveying the product up an inclined tub to allow free water to drain from the material. Using a close-clearance curved plate on one side of the conveyor shaft and a drainage trough on the other side, water is allowed to drain from the product as the spiraled shaft delivers the material up the inclined curved plate. This process means less water and results in a drier final product that is more salable.

Classification is achieved by adjusting the volume of water over the adjustable-height weirs of the Fine Material Washer. For maximum material retention, the washer's three adjustable weirs are set level to provide a low overflow velocity. For coarser mesh hydraulic splits, the Fine Material Washer's adjustable-height weirs are offset to provide a higher overflow velocity.
CONDOR Fine Material Washers
CONDOR Screw Washers offer many of the same benefits as Eagle Iron Works Classic Screw Washers. They feature the same outboard bearings, shaft dimensions, full-length curved plate, rising current plate and adjustable weirs as Classic Eagle Fine Material Screws. Washer tubs are constructed with the same material, steel thickness and matching capabilities. The main difference is that CONDOR units are built with an industry recognized Dodge TA II reducer, sized for a long life of continuous operation.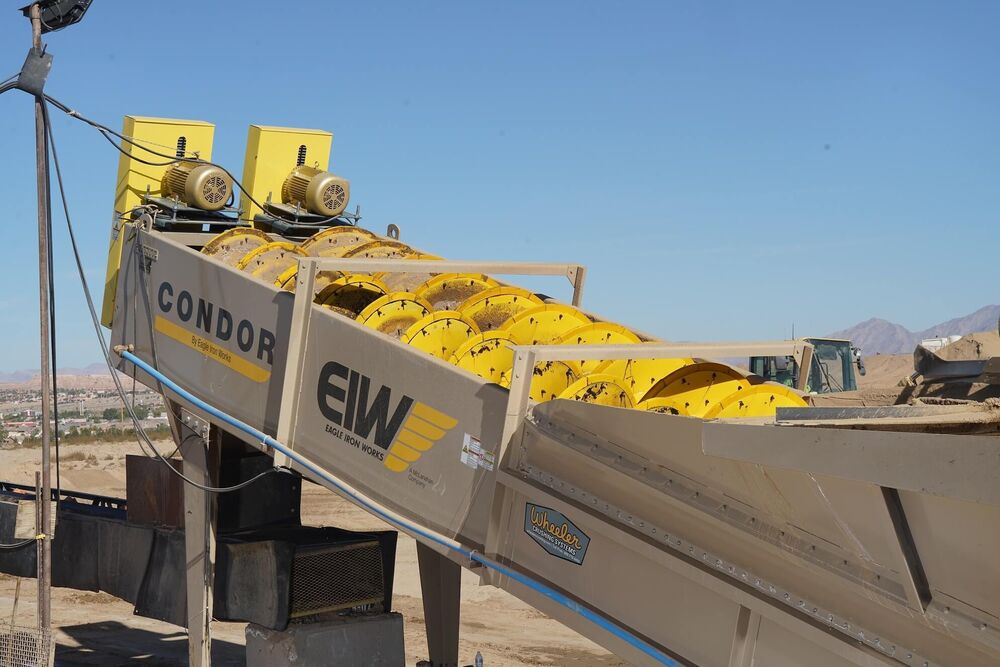 Product Features
Eagle Gear Reducer
Heavy-duty design with head-treated helical gears
Triple reduction gearing allows 100% to 16% speed changes
100% of the shaft's thrust load carried by the output shaft(s)
Oil bath lubrication for maintenance-free operation
Drive guards standard equipment
Conveyor Shaft
Helical spiral segments with continuous submerged arc weld
Extra-thick, one-piece shaft tubing
Wear Shoes
Standard wear shoes are of an abrasion-resistant 600 Brinell Eagle Armor iron alloy
Optional urethane wear shoes available
Washer Tub
Fabricated with thick gauge steel
Close-clearance curved plate runs entire length of shaft
Extra-wide side flares for maximum product retention
Adjustable weirs for out of level conditions
Spherical-roller rear grease bearing(s)
High-efficiency electric motor(s)
Feed Box
Internal and external baffles to reduce feed velocities
Provides uniform slurry mixture for maximum product retention
Optional Equipment
Discharge chute
Washer supports
Safety covers
Pillow-block rear bearing(s)
Download the Fine Material Washer Brochure
To learn more about Eagle Iron Works' Fine Material Washers, including sizes and capacities, download the brochure.